Rent a Boat in Amsterdam
Are you looking to rent a boat in beautiful Amsterdam?
Then a boat trip in the extraordinary canals should be on your to-do list. Visit the most beautiful hotspots with your own boat. Ever sailed past the Anne Frank house? Or sailed past the Elephants of Artis?
Discover how beautiful Amsterdam can be from our state of the art rental boats!
Rent a boat in beautiful Amsterdam
Exploring beautiful Amsterdam is done best on our comfortable and spacious boats. From here you can enjoy the view on the large mansions by the water that are build in characteristic Amsterdam architecture. Along the canals there are several historical places that are a must see and especially from the water.
Make a Reservation
Our boat rental company
Eco boats Amsterdam is family business with a green vision. Out vision is clear, we want to provide our customers with the best service and make sure they have the best day out and at the same time we want to keep the Amsterdam canals clean. How do we pursue this? Electrical motorboats! We were the first company in Amsterdam to rent out only electrically powered boats. They all have a 1500 Watt electric outboard motor with 4 batteries. So you're guaranteed to be able to sail up to14 hours. Besides do we support plastic fishing.
Beautiful routes through the canals
During your boat trip you will sail through the beautiful canals of Amsterdam and you will come across many beautiful places. There are a number of astonishing sights where you can sail past. One of them is the "munttoren" that used to be part of the city gates in the Middle Ages. You can also pass the Anne Frank house and there are hundreds of authentic bridges under which you can sail through. Make sure you plan your ideal route before you rent a boat in Amsterdam. This way you can see all the places on your to do list.
SHORT TOOL TIP MESSAGE
What do you bring when you rent a boat in Amsterdam?
Always bring a valid proof of identification, and a security deposit of €150 (or a creditcard). And since the Dutch weather is not always very reliable, bring your coat!
Feel free to bring your own snacks and drinks on board. But be aware that the captain has to obey the sailing regulations. These dictate that the skipper may not have more than 0.5 alcohol promillage. Check our navigation and safety regulations page before you set sail.
What do you not have to bring when you rent a boat in Amsterdam?
To make your life and boat trip easy we provide you with:
pillows

Blankets

Sail map of Amsterdam

Fast course on sailing
Rent Your Ecoboat Now
Want to ensure you've got a boat at your disposal? We recommend you to make a reservation in advance. You are also welcome to come by Ecoboats Amsterdam any time you'd like. You'll find us near Amsterdam Central Station.
Make a Reservation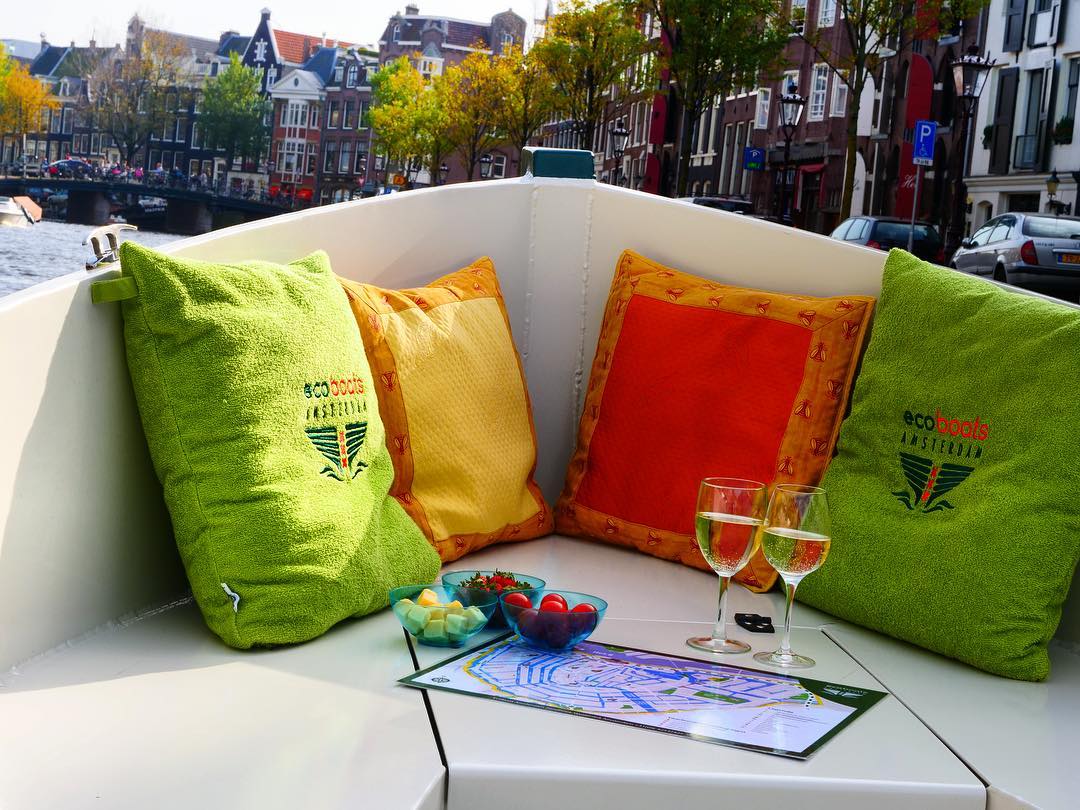 Navigation Safety and Regulations
When sailing in Amsterdam, the following navigational regulations apply:

It is prohibited to unmoor
Passing and overtaking is prohibited

Sailing in, out, or through is prohibited

It is prohibited to unmoorn
Passing and overtaking is prohibited

Sailing in, out, or through is prohibited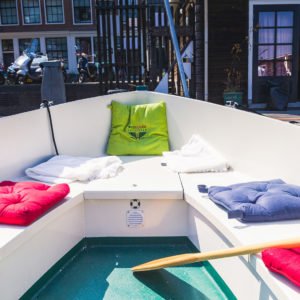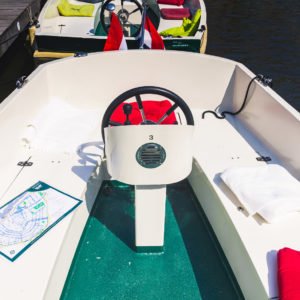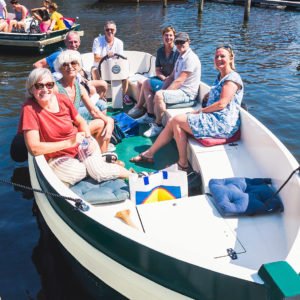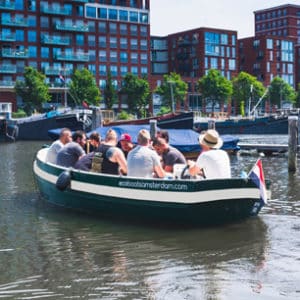 Canal Motorboats
All our boats rented out? No problem! Our sister company Canal Motorboats will surely have some boats available. Same cheerful service and love for boating. Make your reservation today.
visit Canal Motorboats