Rent a boat Amsterdam
Are you in Amsterdam right now or are you planning a trip to go to Amsterdam? Come by and discover the city by boat. Rent a boat in Amsterdam at Eco Boats. Our electric rental boats are environmentally friendly, brand new, spacious and quiet. This way, you'll explore the canals in the best way possible!
Rent a boat
Amsterdam rent a boat at Eco Boats
Eco Boats is the best Amsterdam boat rental company to go to. We'd like to tell you why.
Rent a boat Amsterdam near Central Station
Our electric boats are environmentally conscious, quiet and spacious
You may drive the boat yourself without a license
Rent a boat Amsterdam cheap
Rent a private boat Amsterdam
There can be up to 12 people on our boats
You'll get comfortable cushions, blankets and a map of the city.
Bring drinks and food on board
We can arrange fun outings and activities (on request)
Do you have any special wishes? We are happy to arrange it!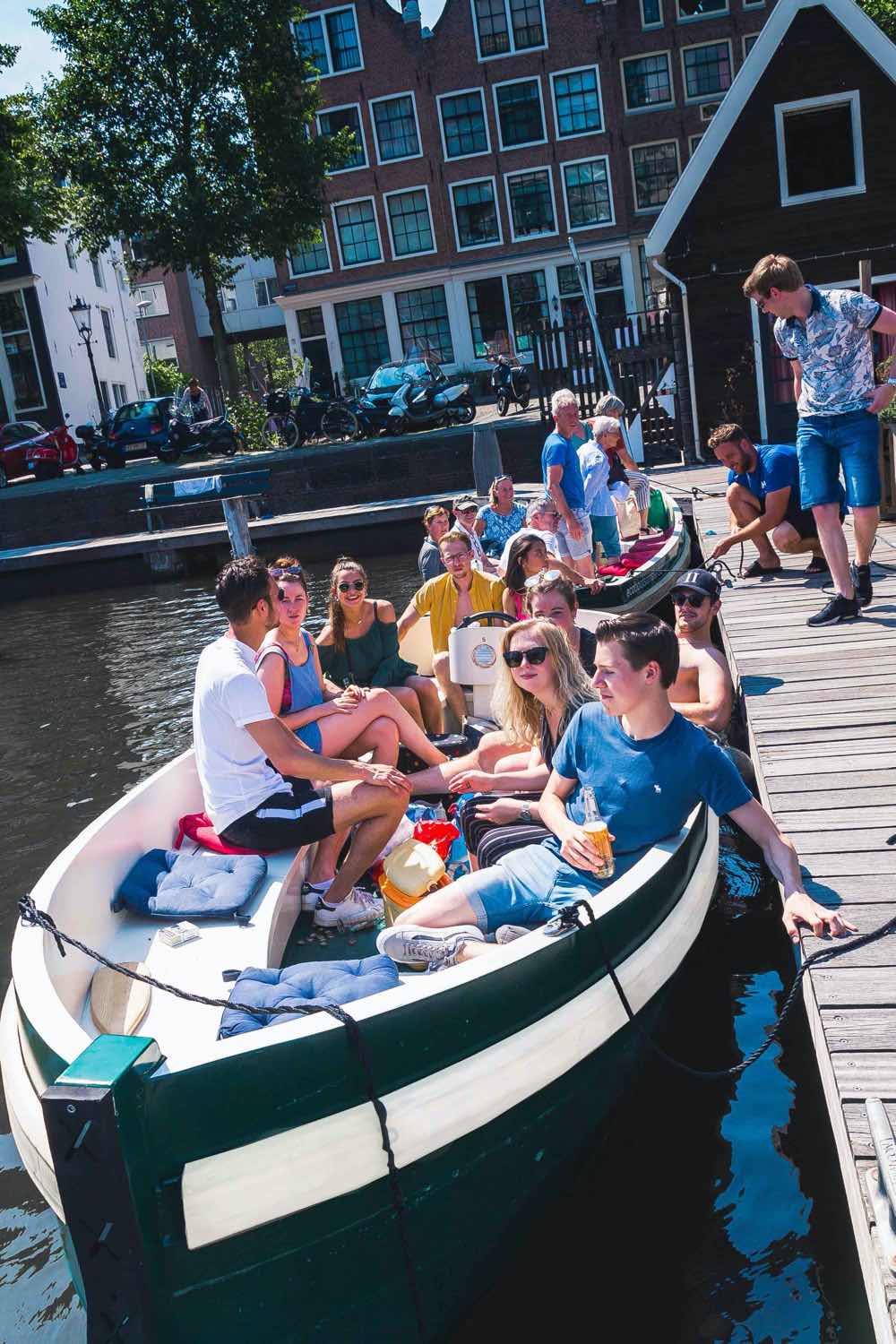 Where to rent a boat Amsterdam Canals?
Eco Boats Amsterdam is located in the center of Amsterdam. Our jetty is located in the Westerdok and is perfectly accessible by public transport, car or even on walking distance from Amsterdam Central Station. Rent a boat on the canals of Amsterdam and enjoy all the beauty that the city has to offer.
Amsterdam rent a boat with friends and family
You'll get your own private boat with Eco Boats. Our spacious boats are big enough for 12 people. We have storage space under the seats to store your belongings safely and keep them dry. This of course also saves a lot of space on the boat. Plan your own route and discover Amsterdam at your own pace.
Corona Update: Due to corona, the maximum amount of people on a boat has changed and it's not always possible to go on a boat with 12 people. Check our corona measures for up-to-date information.
Rent a boat Amsterdam canal cheap
Searching to rent a boat in Amsterdam cheap? At Eco Boats Amsterdam you can rent a boat in Amsterdam for a good price. It costs 50,- per hour on weekdays and on Friday, Saturday and Sunday it's 60,- per hour. Boat renting Amsterdam is possible for at least 2 hours or longer.
These are our hourly rates:
*because it's the weekend and it can be crowded
*because it's the weekend and it can be crowded
Private boat rent Amsterdam
You are the captain!
Would you like to rent a private boat in Amsterdam and drive it yourself? With Eco Boats you can! You don't need a license and it's not difficult at all. You will get your own private boat. We'll explain everything before you leave our jetty. Would you rather have someone else steer the boat? Please contact us for the possibilities.
Electric boat rent Amsterdam Canals
Eco Boats Amsterdam owes its name to our commitment to sustainable boating. We find it very important to keep the beautiful canals of Amsterdam clean and have taken the plan of the city of Amsterdam to get the canals completely diesel free as an example. Our electric boats are specially built for this. We are also always busy keeping the canals of Amsterdam clean. For example, we sometimes go plastic fishing and organize boat trips where you can do the same! Rent a boat in Amsterdam on the canals and discover the beautiful city.
More info about Plastic Fishing
This is what you get on board of the boat
A frequently asked question is: what do you get on board? Of course we want to make you as comfortable as possible so you can enjoy the boat trip through Amsterdam. This is what you get on board of the boat:
Comfortable pillows to sit on or lean against to
Blankets for when it's cold
Map of Amsterdam
In addition, we provide an explanation about the boat, the boating rules in Amsterdam and all the necessary instructions so that you can go boating through the canals like an experienced captain. Do you have special requests such as catering, a scavenger hunt or something else? Feel free to contact us and we will arrange it!
What do you need to bring with you?
Don't forget to bring some things with you. For example, you can bring your own snacks and drinks on board. But please note that the captain of the boat has to be sober during the boat trip.
We ask you to bring at least the following things with you:
A valid proof of identity
Deposit of €150 cash or credit card
Proof of reservation, if you booked in advance.
Corona Update: Due to the corona crisis, you currently don't have to pay the deposit.
Do you have questions?
Please feel free to contact us with any questions you may have about boat renting Amsterdam. We will be happy to provide you with additional information. You can also take a look at our most frequently asked questions!
Frequently Asked Questions
Navigation Safety and Regulations
When in Amsterdam, the following navigational regulations apply:

It is prohibited to unmoor

Passing and overtaking is prohibited

Sailing in, out, or through is prohibited


It is prohibited to unmoorn

Passing and overtaking is prohibited

Sailing in, out, or through is prohibited

Canal Motorboats
All our boats rented out? No problem! Our sister company Canal Motorboats will surely have some boats available. Same cheerful service and love for boating. Make your reservation today.
visit Canal Motorboats