Eco Boats – Boat rental Amsterdam
Are you looking for a boat rental in Amsterdam?
Discover the extraordinary canals with Eco boats Amsterdam.
Our state-of-the-art boats are smooth, quiet, and allow you
to sail up to 14 hours straight. Renting a boat in
Amsterdam has never been this easy.

Boat Rental Amsterdam
Exploring the beautiful canals of Amsterdam is done best on our comfortable and sturdy boats. Ecoboats Amsterdam is a family business passed on through generations, providing you with modern and state-of-the-art motor boats. Years of experience, along with our excellent location, make Ecoboats Amsterdam the most successful in the business. With our great service and exceptional boats, we exceed all your expectations.
Make a Reservation
Cheap Boat Rental Amsterdam
With the Ecoboats Amsterdam hourly rate, we offer the cheapest boat rental in Amsterdam. Prior to setting sail, our experienced captains offer all instructions you need to effortlessly navigate through the canals. Along with the provided expertise and routes for a smooth journey, every boat is equipped with the softest blankets and pillows to create the ultimate level of comfort.
The Displayed Rates Belong to the Standard Package Deal:
A valid proof of identification, and a security deposit of €150 (or a creditcard) are required, in order to rent an Ecoboat.
The pillows, blankets, and storage units are all included in our low price.
SHORT TOOL TIP MESSAGE
Reserve now
Rent a boat 12 persons Amsterdam
Would you like to rent a boat in Amsterdam for 8, 10 or 12 persons? That's possible because our boats are big enough for 12 people. There is storage space under the seats to store your belongings safely and dry. Would you like to rent a boat for more than 12 people? That is possible! We have 10 Eco Boats lying in the Marina. Would you like to sail with large groups? Please contact us.
What's On Board?
A frequently asked question is: what do you get on board for this fare? Of course we want to make you as comfortable as possible so you can enjoy the boat trip through Amsterdam to the fullest. You will receive this on board:
Pillows

Blankets

Sailing map of Amsterdam
Feel free to bring your own snacks and drinks on board. Please note that the driver of the boat has to be sober during the boat trip. In addition, we provide an extensive explanation about the boat, the sailing rules in Amsterdam and all necessary instructions so that you can sail through the canals like an experienced captain.
Greenest Boat Rental of Amsterdam
Our boat rental Amsterdam owes its name to how we are committed to sustainable sailing. The boats are powered by electricity so that the canals and surroundings are less polluted. We took the city of Amsterdam's plan to free up the canals entirely of diesel boats as an example. That is why we are always busy keeping the canals of Amsterdam clean. We also do plastic fishing and organize boat trips where you can do the same! Read more here.
Rent Your Ecoboat Now
Want to ensure you've got a boat at your disposal? We recommend you to make a reservation in advance. You are also welcome to come by Eco boats Amsterdam any time you'd like. You'll find us near Amsterdam Central Station.
Make a Reservation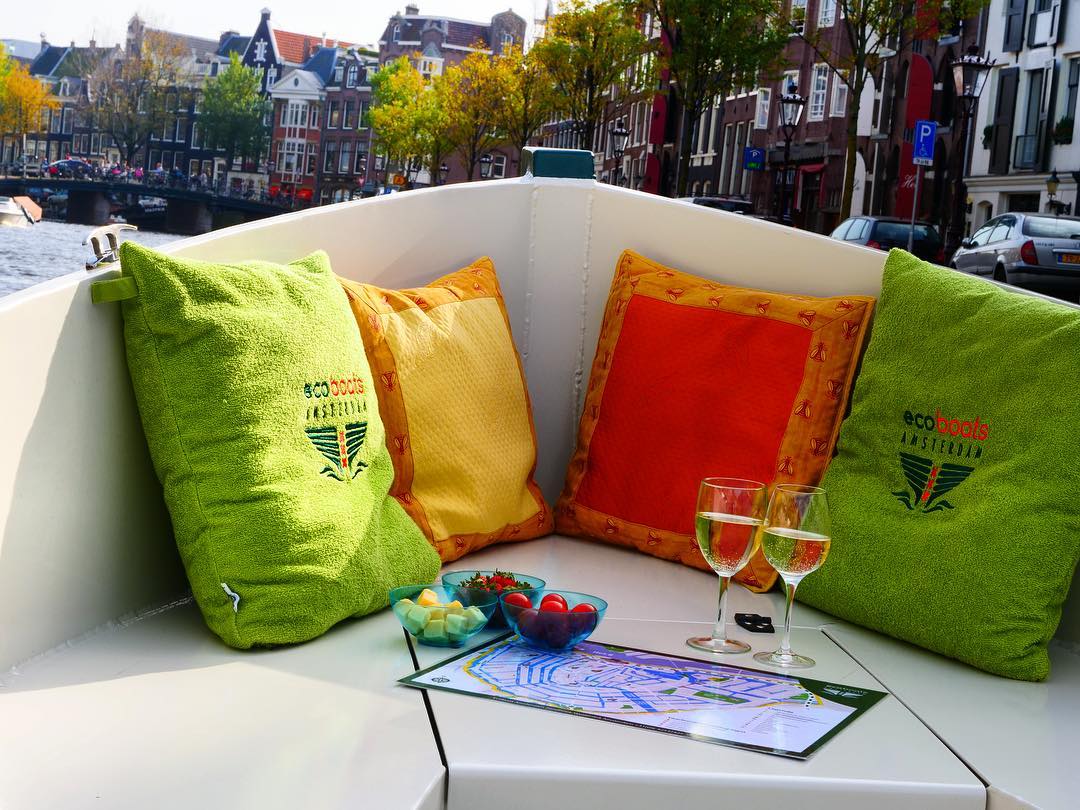 In Need of More Information?
Feel free to contact us by phone at 06 21617111 or by email at info@ecoboatsamsterdam.com. We will gladly provide you with additional information and availability of the boats.
Navigation Safety and Regulations
When sailing in Amsterdam, the following navigational regulations apply:

It is prohibited to unmoor
Passing and overtaking is prohibited

Sailing in, out, or through is prohibited

It is prohibited to unmoorn
Passing and overtaking is prohibited

Sailing in, out, or through is prohibited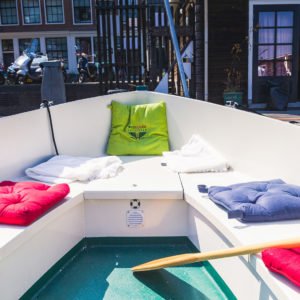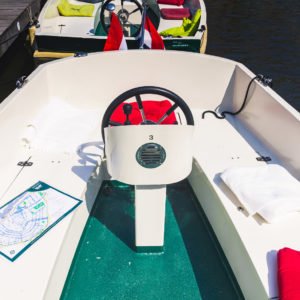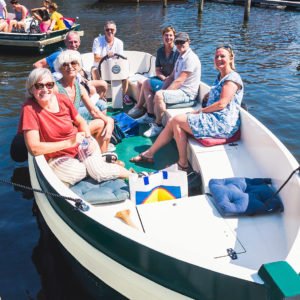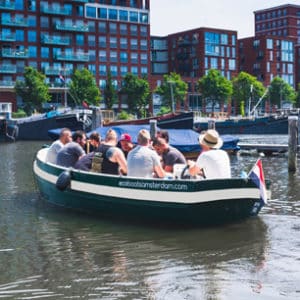 Canal Motorboats
All our boats rented out? No problem! Our sister company Canal Motorboats will surely have some boats available. Same cheerful service and love for boating. Make your reservation today.
visit Canal Motorboats